We have provided face painting with professional face painters for thousands of happy customers since 2006, and counting.
Whether you're getting face painted for the 1st time or
hoping to enjoy the Paint Savvy experience again,
Paint Savvy enthusiastically provides you with...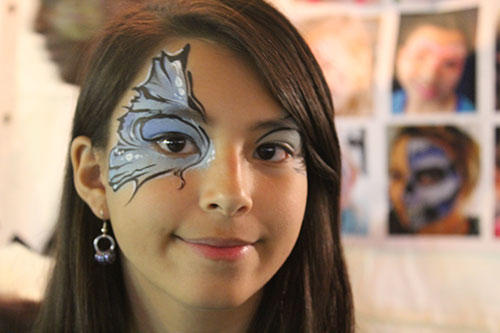 Highly Trained Professional Painters and Staff
Paint Savvy was founded as a face painting enterprise.  Staff train with the best in the industry and the results are evident with the quality and satisfaction received by the client.  Paint savvy has had the unique priveledge of working with Animal Planet, Disney, and other prestigious organizations stretching our creative abilities, challenging us to be the best face painters we can possibly be! Staff are vetted, background checks are excersized when necessary and in addition to training in the art of face and body painting, our providers are also trained in customer service and satisfaction. A reliable, prompt, curteous and gifted artist are paramount to our promises.
Hygiene Practices that exceed industry standards
Paint Savvy staffs a NC licensed cosmetologist trained in face hygiene. What goes on you or your child's face should only be the best and Paint Savvy uses only FDA approved, hypoallergenic, Highest Grade Face and Body Paint and Makeup.
Reputation
Paint Savvy has a full staff of experienced Face Painters, or Face Paint Professionals. Rest assured - Paint Savvy is fully licensed, incorporated and insured in keeping with the Paint Savvy commitment to professionalism.
A Community Oriented Business
Paint Savvy is involved in the community and is generous in giving back with a track record of returning over 10% of gross yearly proceeds back into the surrounding community. Paint Savvy partners with organizations on a regular basis with fundraisers and other related activities.
For a full list of Paint Savvy Services, please visit our Services Page